LENS & LINES
When Aretha can't, Chaka Khan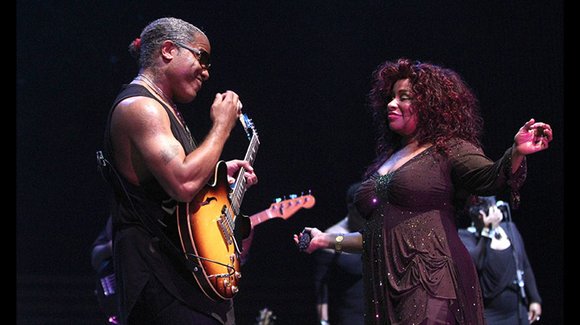 Chaka Khan – 'The Queen of Funk' – did not disappoint filling in for "The Queen of Soul" and kicking off The Live at The Garden Concert series at the Memphis Botanic Garden.
Like many others, I hated that Aretha Franklin had to cancel, but I was pumped about seeing, hearing and photographing Chaka Khan, walking about a mile and a half from my vehicle to the venue. No sweat; it was good exercise.
Along the way I encountered Charles Barnes and his wife, Ronnie Barnes, on an outing in celebration of Ronnie Barnes' 49th birthday. The couple of 49 years were in agreement: they wanted to see Chaka perform again and they had the same favorite song "I'm Every Woman," which may say something about the longevity of their relationship.
The Garden has upgraded, with a new stage, recall area and concession area; a beautiful venue for concerts. I got credentials about five minutes before showtime and joined the sold-out crowd in a collective prayer for the rain, which had been prominent all day, to hold off.
About 8:30 p.m., the band hit the stage jamming and then a slimmed down and looking good Chaka entered wearing a lovely black outfit. The hits started rolling: "What Cha Going To Do For Me," "I Feel For You," "Funny Valentine" and "Sweet Thing."
As Chaka took a short break, her band played some songs so filled with funk that I thought the Parliament-Funkadelic "Mother Ship" was going to land. She came back singing one of my favorites, "Papillon," and the Barnes' family favorite, "I'm Every Woman."
The show was great. It's just that the crowd – me included – could have dealt with more of it.
Chaka thanked the crowd for coming out and paid homage to Aretha Franklin. "The Queen of Soul" definitely would have been proud of "The Queen of Funk."
Footnotes:
As soon as I got to my vehicle, it started raining.

Congratulations to Sherry May and her staff for a roaring start to the Live at the Garden Concert season.