Getting to know 'Sir Walt'
The evolution of Walter Andrade.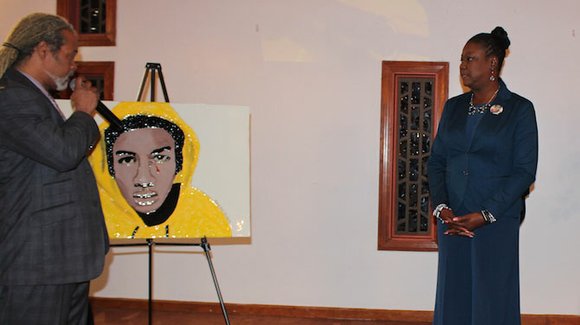 by Brittney Gathen
Special to The New Tri-State Defender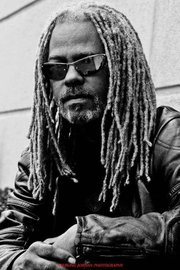 Like so many of us, Walter "Sir Walt" Andrade felt a connection to the tragic death of Florida teenager Trayvon Martin in 2012. So the Memphis artist took brush in hand and painted a picture of Martin in a hoodie with a bloody teardrop running down his face.
Three weeks ago, Andrade found himself a few feet away from Martin's mother, Sybrina Fulton, presenting the picture during the Heal the Hood Foundation's Citywide Anti-Violence Youth Symposium at Unity Christian Church in Whitehaven.
"I've had several relatives and friends die from gunshots, whether from private citizens or police. So, I just wanted to do something that would make people think and that would resonate in people's minds for a long time, because there's too many of our young people who are getting killed," said Andrade.
He displayed the painting at a couple of events, including an earlier rally in Memphis. Several people asked to buy it, but Andrade refused, thinking that divine intervention would help him get it to his preferred destination.
"I really wanted to get it to his family. That was kind of the reason why I created it. I wanted to be part of their legacy," Andrade said. "I knew that one day the Creator would allow me to come in contact with Miss Fulton."
After learning that Fulton would be the keynote speaker at the Heal the Hood symposium, Andrade contacted the group's CEO, LaDell Beamon, and emailed a copy of his painting. Beamon agreed to make the connection.
"After hearing her speak, I was totally impressed and inspired by her strength and her other son (Jahvaris Fulton) graduating from college and not letting this turn of events put a negative spin on their lives," Andrade said. "I really wanted them to have this gift just to show my gratitude for what they've done, what they're going to do and the positive message that they're putting out."
Andrade plans to ship the painting to Sybrina Fulton, along with a photo of it and a copyright release.
A Connecticut native, Andrade long has had an interest in art. He was hesitant, however, to choose it as a career. He didn't believe in himself and there were those around him who advocated for a more stable, money-making career.
While living in Detroit, Andrade met artist Chaz Miller. After seeing a painting Andrade made of President Obama, Miller encouraged him to pursue artwork and helped orchestrate his first art show.
An out-of-work construction laborer at the time, Andrade had a lot of sheetrock, mud and wood on hand. He used the materials to make 18 pieces for his first "Mudworkz" show, which featured individuals who had influenced him such as Malcolm X, President Obama, Tupac, Biggie and Miles Davis, as well as some of his relatives.
Later, Andrade earned a degree in graphic design from Bauder College before eventually moving to Memphis, where his grandparents had roots. In 2009, he started Mudworkz – a company that specializes in interior design and 3D graphic art made from building materials. His Mudworkz creations include paintings of Robin Thicke, Larry Dodson of The Bar-Kays, Myrlie Evers-Williams, and Beverly Robertson, former president of the National Civil Rights Museum.