If speech is free, shouldn't silence be?
Super Bowl Talk: Seattle Seahawks running back Marshawn Lynch has become a media sensation largely because of his disdain for interviews.
by Howard Robertson and Larry Robinson | 1/29/2015, 12:09 p.m.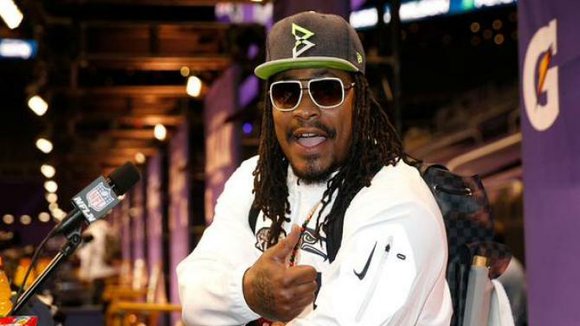 The First Amendment says: "Congress shall make no law...abridging the freedom of speech."
The National Football League says: "Players must be available to the media following every game and regularly during the practice week as required under league rules and their contracts."
So, our Constitution guarantees that by law, we will always be free to say what we want. We're also free to be quiet. But then the NFL mandates that players be available to the media.
Does "available" mean talking and what if you don't want to talk or don't have anything worthwhile to say? Must you talk anyway? If you don't talk, what happens?
Marshawn "Beast Mode" Lynch is the All-Pro, Super Bowl Champion Seattle Seahawks' running back who does his job advancing the football extremely well. He's by no means eloquent. He's not auditioning to be an ESPN commentator now or later. He doesn't like speaking into microphones or answering repetitive, mundane, often idiotic questions from often smarmy sports reporters. He has said that he would much rather let his performance on the field speak for itself and for him.
So, why is there a problem?
Which begs the next question: If a player is doing his job well on the field and not violating the personal conduct policy off the field, why does the NFL care if a player doesn't want to speak?
Broadcast media is the NFL's biggest, most valuable client. They pay the NFL gazillions of dollars every year for rights, access, availability and participation. We call it big pimping and apparently players not talking are like "hoes not walking." After all, media has a 24-hour sports news cycle to fill. How in the hell can they do that with people who don't want to talk? Marshawn had to be made an example of before his "zipped lip" syndrome spread to others.
So Beast Mode gets punished. First it's a $50,000 fine for refusing to talk to the media in 2013. Then in November 2014 he was fined $100,000 for refusing to speak. After that, teammates Doug Baldwin and Richard Sherman – the articulate, Stanford-educated Seahawk that some media pundits say talks too much – held a brilliant mock press conference lambasting the NFL's hypocrisy.
Since then, Marshawn has had compelling answers to media questions including: "Yeah," "I appreciate you asking," and during Super Bowl media day 29 times he gave the greatest of all time answer: "I'm just here so I won't get fined."
Marshawn Lynch should not be forced to speak to the media or fined for not doing so. The last time we checked, that isn't required of murderers, rapists, convicted felons or anybody else, so it shouldn't be forced on professional athletes. If you are free to say intelligent, insightful or even crazy, ignorant things...silence should not cost you.
And please don't say anything in the vicinity of, "That comes with getting paid all that money." Roger Goodell makes $44 million a year and he didn't get fined for not talking to the media during the Ray/Janae domestic violence fray until he got good and ready. Don't forget that.
("A Little R&R on Sports" is nationally syndicated on the Sports Byline USA network, every Saturday 11 a.m. EST/ 10 a.m. CST on sportsbyline.com. In Memphis tune in to KWAM 990 every Saturday at 10 a.m. Plus, log onto randronsports.com.)