Is it time for a race-neutral approach to affirmative action?
Scholar and author says "the law or politics will render race-based affirmative action extinct."
by Freddie Allen NNPA News Service | 1/14/2015, 1:01 p.m.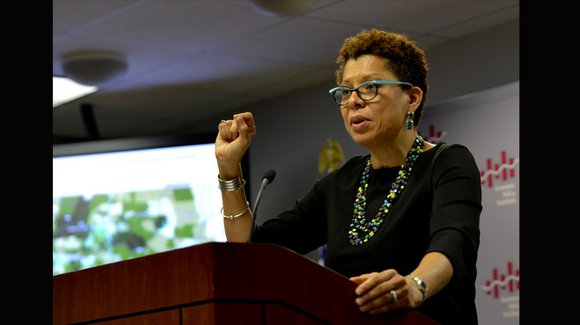 WASHINGTON – In the wake of unrelenting law suits seeking to abolish affirmative action coupled with nearly half of all universities dropping consideration of race as a factor in college admissions, it is time to shift gears and devise a less objectionable race-neutral approach that will diversify higher education, says a noted African-American law professor.
During a recent discussion on affirmative action at the Economic Policy Institute in Washington, D.C. Sheryll Cashin, a professor of law at Georgetown University and author of "Place, Not Race: A New Vision of Opportunity in America," said that as long as race-conscious affirmative action remains a factor in college admission, there will always be white students challenging affirmative action.
Cashin, who clerked for U.S. Supreme Court Justice Thurgood Marshall, said "that law or politics will render race-based affirmative action extinct" and argued that it makes "sense to get started on race-neutral reforms that have the potential to create diversity and more social cohesion."
She said that the percentage of four-year colleges that consider racial, ethnic or gender status in admissions has fallen from about 60 percent to 35 percent.
Others, however, do not favor a switch to de-emphasizing race and point to race-neutral affirmative programs in Texas and California that have not achieved the same results as previous race-conscious approaches. Even Texas' 10 Percent Plan that guarantees the top 10 percent of each high school graduating class in Texas will be accepted at the University of Texas, the flagship campus, was challenged by a white applicant who had been rejected.
Backed by the Edward Blum's Project for Fair Representation, a nonprofit group that wants to ban race-, gender- and ethnic-conscious affirmative action, Abigail Fisher a white woman, alleged that the University of Texas at Austin refused to accept her, because she was white, while black and Latino students that she outperformed were admitted
Admission officials look at factors in addition to grade to determine the composition of an incoming class, not just grades.
In its "Brief of Opposition," the university said: "The undisputed evidence demonstrated that Fisher would not have been offered fall admission in 2008 even if she had scored a perfect '6' on her PAI – the portion of the admissions process where race is considered as 'a factor of a factor of a factor.'"
Investigating Fisher's claims, Pro Publica reported that 42 white students with less impressive grades than Fisher got in compared to just five African-American and Latino students with similar academic achievement. Meanwhile, almost 170 African-American and Latino students with the same or better grades as Fisher were also turned away.
In the 2012 term, the Supreme Court punted in Fisher v. University of Texas, sending the case back to the lower court for reconsideration. Justice Anthony Kennedy, writing for the 7-1 majority, said: "…Strict scrutiny imposes on the university the ultimate burden of demonstrating before turning to racial classifications, that available, workable race-neutral alternatives do not suffice."
In other words, the university had the burden of showing that gender- ethnicity- and race-conscious affirmative action admission policies are the only way to effectively achieve diversity on campus.