Dr. Bettye J. Alston – 'Always uplifting'
The pastor of New Beginning Ministries and the owner of Inside & Out Wellness Center left a caring legacy.
The New Tri-State Defender Staff | 2/26/2015, 12:31 p.m.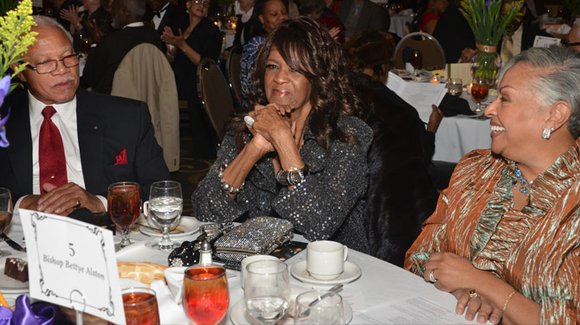 Dr. Bettye J. Alston lived her life in a humble manner that reflected sincerity, loyalty, devotion and the belief that the joy of living was a thing to be shared as widely – and as often – as possible.
The pastor of New Beginning Ministries, which she founded 25-plus years ago, Bishop Alston was the owner of Inside & Out Wellness Center and President/CEO of New Beginning Counseling Center. She died Tuesday at age 76.
On Feb. 12th, Bishop Alston, a graduate of Memphis Theological Seminary, was among those MTS saluted during its presentation of the 28th Annual Dr. Henry Logan Starks Scholarship Dinner & Awards Ceremony. As he often did, Tyrone P. Easley, freelance photographer for The New Tri-State Defender, was there capturing her images.
"She was an extraordinary personality, and a magnet of positivity," said Easley, who was in the TSD office attending to paperwork associated with his photos of the Starks ceremony when he learned of Bishop Alston's passing. He dropped his pencil and bowed his head.
Later, he said, "She kept something going that was always uplifting. She was a people-pick-upper."
So many would agree!
The widow of renowned minister the Rev. Neasbie Alston, Bishop Alston was 41, single and a minister in the AME Church when she married Rev. Alston, who was a 58-year-old widower and a Baptist church minister, on Nov. 29, 1980. Rev. Alston died in 2012 at age 90. Their family included eight children and a host of grandchildren and great-grandchildren.
"Our prayers are with the family of Dr. Bettye Alston. She and her late husband, Neasbie, were a power couple in the local religious community," said Mayor A C Wharton Jr. "After his death a couple of years ago, she continued to be a strong force for good. Bishop Alston will be missed."
A registered nurse and certified counselor, Dr. Alston earned her Ph.D. in counseling psychology, a doctorate of ministry from St. Paul School of Theology, and a masters degree in divinity. She retired as director of nursing education from The Regional Medical Center (now Regional One Health).
Wellness on every level was a big deal to Dr. Alston, who moved earnestly to make it so for others, helping many with weight loss and fitness and demonstrating an ongoing concern about the prevention of childhood and adult obesity. She had owned the Inside and Out Wellness Center at 1024 S. Cooper since April 2000.
A member of the Leadership Memphis class of 1991, Dr. Alston was a proud soro in Alpha Kappa Alpha Sorority, Inc.
The longtime owner of Miss Be Nea's House Of Fashions, her many hats included being an author, having penned "Building Bricks Without Straw. The Impossible Mission." This online description of the literary work provides some insight into its author:
"A personal Vision and mission enhancement that will help the reader become committed to succeed in any and all pursuits and endeavors. It is an excellent how to book with a Christian perspective. The book begins as a network marketing how to book from the view of a senior citizen who had no knowledge of what to do and how to do it. The task of building a team appeared to be impossible until the writer prayed and God revealed the way to success."
A Melrose High School graduate, she was consecrated Bishop in 2007 and was the recipient of numerous honors and awards, all of which she accepted with noted humility. Although some knew she had been contending with illness, word of Bishop Alston's passing was jarring nonetheless. Her Facebook page reflects how so many felt about her.
"A force of nature has moved on...A star in the sky has turned to light another way...I will forever miss Bishop Bettye J. Alston," posted the Rev. Rosalyn Regina Nichols. "I walk the path she blazed. I am able because she came my way."
After the salute at the Dr. Henry Logan Starks Scholarship Gala, this revealing exchange unfolded on Facebook:
Crystal Brown‎ to Bishop Bettye J. Alston: "Congratulations on your vision continuing to be fulfilled with Memphis Theological Seminary's … Dr. Henry Logan Starks Scholarship Gala. … Now, OAN, where did you get those STOCKINGS???!!!???"
Deborah Thomas: "Baby, she was too sharp!!!!"
Crystal Brown: "......than a TACK!!!!"
Bishop Alston: "….y'all are just too kind. Thank you. You must love me. LoL"
Crystal Brown: "Yes ma'am."
(Services were pending at TSD deadline.)