G ☺ ☺ D BLUE & Y☺U
'Minimal to me can be the world to someone else'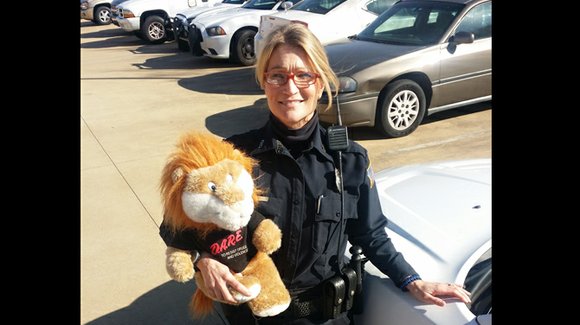 (Just as a neighborhood should not be judged by the actions of a few bad apples, neither should law enforcement agencies. The New Tri-State Defender's "Good Blue & You" column spotlights law enforcement officers who do it right. This week's focus is on Cassandra Leake, an officer with the Memphis Police Department assigned to the Airways station.)
The daughter of a retired police officer, Cassandra Leake is a 17-year veteran of the Memphis Police Department. While the DNA of protecting and serving the community runs in her veins, there is another element to her nucleus – love. At Bellevue Baptist Church, there's a program called "Bellevue Loves Memphis" and Officer Leake has been a part of it for three years. Through it, she and her husband are touching and changing lives, one Bible Study at a time.
Officer Cassandra Leake: This program that we have at Bellevue Baptist helps bridge the gaps in schools and communities. We do different things with it such as work projects where we may paint a house or fix up a playground in a neighborhood. During these assignments is where we take the opportunity to preach God and Jesus to the people that we are helping.
My husband, Dana, and I and some ladies from our Sunday school class … initially went to Tulane Apartments in Whitehaven to do a pampering class for the women … things such as facials and demonstrated to them how they can use products at home to get just as great results as the professionals. You know, remedies that I myself use. We had another lady that did hair and things of that nature and they loved it.
My husband, who is also a deacon at our church, held a Bible Study as we were doing this event. It was then that a missionary from this community asked us could we regularly show up and conduct a Bible Study. That birthed what we are doing there now.
Kelvin Cowans: How has the reception been for you guys there?
Officer Leake: It's been great. Things grew really fast and before we knew it we had two Bible studies going on. One where my husband taught the adult men, and another where I teach the women and kids. What was funny was that the people of this community didn't know for the longest that I was a police officer. But I also teach the D.A.R.E. program (Drugs Abuse Resistence Education) at Fairley High School and the G.R.E.A.T. program (Gang Resistence Education And Training) at Geeter Middle School, so the kids eventually was like, "Ms. Cassie. I saw you at my school today."
So then my cover was blown. It wasn't that I was trying to hide it, I just wanted them to know me for me on a personal level. I'm just as excited to see them. You know I can't put it into words the benefits that this has done for me. (Crying)

KC: So, a Caucasian police officer doing Saturday morning Bible Study in a black neighborhood with black women off the clock. Yeah, you should be crying, you're a mountain mover.