Royal Studios & the 'Uptown Funk' journey
Chart-burning hit is a building block for Memphis-made music.
by DeAara Lewis Special to The New Tri-State Defender | 2/12/2015, 2:07 p.m.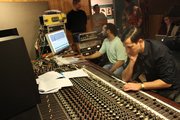 "Uptown Funk" fever is storming the nation.
The funk-era inspired song, produced by Mark Ronson and sung by megastar Bruno Mars, has remained No. 1 on the Billboard Hot 100 for more than five weeks.

Featuring remnants of the early 80's band, The Time, "Uptown Funk" has a deeper meaning for Memphis because it was cut in the city at one of the oldest recording studios in the world – Royal Studios.
Cloaked in tanned brick layers flushed in green, Royal Studios can be easily missed as one drives along Willie Mitchell Boulevard in a South Memphis neighborhood that bears evidence of a decades-long bout with decline. The former Nickelodeon theatre was remodeled into a recording studio in 1956. And with the late legendary Willie Mitchell at the helm, it became the first recording home to some of the most notable singers, musicians and producers who helped shape American music.
Al Green, Anne Peebles, Bobby Blue Bland and George Jackson are among the Royal Studio roster of artists who helped propel the studio to commercial success. Green, the most prominent of them all, sold 20-million-plus records worldwide during his tenure.
Lawrence "Boo" Mitchell, the grandson of Willie Mitchell, has followed in his grandfather's footsteps of music production. Throughout the years, he has produced records for high profile artists such as Elton John, Keith Richards, Rod Steward, John Mayer and Snoop Dog. However, with the notable exception of music aficionados, Royal Studios' legacy – and to some degree Memphis's legacy as the "mecca of music" – largely has remained obscure to contemporary pop culture.
Boo Mitchell plans to change that.

The success of "Take Me to the River," a documentary about the soul of American music co-produced by Mitchell, has been building momentum since its release and has served as a catalyst for recruiting renowned artists to record at Royal Studio.
"We wanted people in Memphis to know where their music came from and we wanted people in the world to know where their music came from," Mitchell said.
The strategy is working. Case in point: Mitchell received a call one day that heavyweight producer Mark Ronson was looking for talent in the Memphis area for his upcoming album, "Uptown Special." Upon visiting Royal Studios, Ronson became captivated by the studio itself.
"They were like, 'Man, this place is cool. We've got to cut our record here,'" Mitchell recalled. "They stayed here like three or four hours vibing off of the studio. Two weeks later they came back with an entourage."
The vibe of Royal Studios is something that Boo Mitchell's grandfather, Willie Mitchell, felt early on. "Something about the floor, as you go down the slope, the music gets bigger, it separates," the iconic Mitchell is quoted as saying on Royal Studios' official website.

The time-capsule effect is part of the enchantment that greets visitors.
"This studio has personality," Mitchell proclaims. " When you walk into a room it affects you. So many studios of today are made industrialized where they are not really designed to have charm and personality; they are just designed to make records. Ours has so much personality because when my grandfather, Willie Mitchell, designed the room and got it to his liking in '69, we haven't changed it."