Interceding for God's people
Bishop Gerald Coleman Sr.'s ability has been described as otherworldly.
Wiley Henry | 2/10/2015, 1:29 p.m.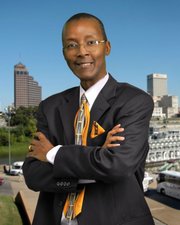 whenry@tsdmemphis.com
More than 20 years ago, Gerald Coleman Sr. traveled the United States as an evangelist with Tennessee's 5th Jurisdiction of the Church of God in Christ. During his travels he noticed that men and women were struggling to overcome obstacles. Touched by their plight, he reached out with a willing spirit and a hand of mercy to make a difference in their lives. And with a succinct message from God, he left with them a prophetic word that would henceforth change their lives for the better.
Most people address him as Prophet Coleman, a God-fearing man who prophesizes, preaches, teaches, counsels and intercedes on behalf of bishops, pastors, deacons, evangelists and laymen all across the United States – and abroad for that matter – who look to the prophet for spiritual direction and for his uncanny ability to see beyond the realm of this world.
Coleman knew he was different than most people. He could see the intangible – what the naked eye can't see – even as a 6-year-old child. Some people might go so far to describe his ability as otherworldly. Coleman, however, describes it as a "gift" and that God has indeed anointed him to speak the unadulterated gospel truth.
"As a child, I could see things. I had several visions. I knew I wasn't normal. I was always seeing things. I was prophesizing," he says. "I would always be in front of people. God showed me how to be a leader of His people."
Coleman actually began his ministry 31 years ago. He is currently the spiritual leader, or the shepherd, of a faithful flock at Faith Keepers Ministries, a thriving church in the Raleigh-Frayser community. He has been at the helm for 10 years.
Originally from Corinth, Miss., Coleman's family moved to Memphis when he was 10 years old. He grew up with 11 sisters and brothers. Although their parents are deceased, Coleman is their second oldest child.
"Preachers run in my family," Coleman pointed out. "I was about 24 years old when I received my calling."

Rev. Kenneth L. Coleman is the pastor of God's Ministries in Cordova, Tenn. Another brother, Charles Coleman, teaches Sunday school at another church and plays an integral part in the church's music department. His sister, Prophetess Betty Coleman, has the uncanny ability to see beyond the realm as well. Each one, however, is working in the vineyard for Christ, Coleman says.

"You have to have a heart for ministry and a love for God," says Coleman, the father of four children: Ashley Shaw, Marquita Palmer, Brittany Whitaker and Gerald Coleman Jr., Faith Keepers' drummer. Marlene D. Coleman, Coleman's wife of 13 years, is an evangelist and the first lady of the church. She oversees the women's ministry, Women Operating in Faith.
A 'fisher' of men…
In Coleman's role as prophet, he refuses to confine himself to the church's pulpit to reel in men and women for Christ. Instead, he travels the highways and byways casting a wide net in an effort to capture the soul of God's people, as if he is indeed a "fisher" of men.