BEYOND THE NEWS: Storm takes 911 dispatcher's house, but not his faith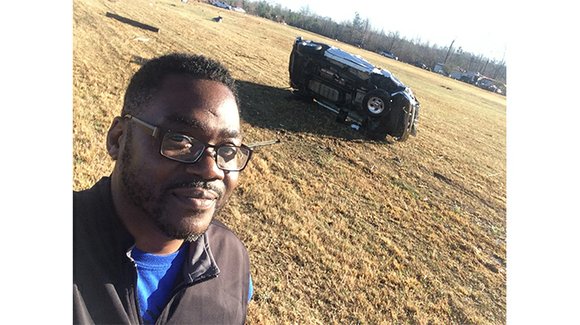 Marvin Tracey Davis – "Tracey D," as he's known among friends, of whom I am one – didn't have to go to work on Dec. 23. He had every reason to stay home that day, and not report to work as a 911 dispatcher in Benton County, Miss.
It was more or less his first time going back to work since he underwent surgery in October. That would be his second surgery in a 12-month period. His first surgery last December was supposed to be a preventive measure, to head off fears of colon cancer.
Instead, while performing the procedure, surgeons discovered that Tracey had already been living with Stage 2 colon cancer. They got to it in time, but Tracey still was facing months of chemotherapy – that, on top of healing from a major surgery and adjusting to the new normal for his body.
"I never felt pain like this before," he told me after he went home.
He will be the first to tell you that it was his faith, his personal relationship with God that brought him through the surgery, the chemo, the physical and emotional pain. But even that faith was forged through trusting God through tough times in the past.
"As a child, I had a lot of devastating things happen to me that most kids haven't had happen," he said, but declined to comment further. "I've always felt really blessed, and I always had a good understanding of who God is and how to trust Him. It was taught to me from a very young age. I know that no matter what is going on, it always gets better and it always has."
Faith was what brought him through that second surgery in October. Which brings us back to Dec. 23, the day when Tracey didn't have to go to work. The day his family expected him to stay home while they visited his wife's family elsewhere in the Ashland area.
The day last week that a monster tornado ripped his home off the ground and sprinkled it across the Benton County landscape. Two days before Christmas.
Ironically, he learned that the storm had rendered him homeless while he was taking 911 calls. A neighbor called in to report the storm's path and he recognized the address as his own.
"I was thinking, 'Wow, I don't have a home right now,'" he said. "But I was thankful. I knew where my family was."
His coworkers suggested he go see about his family, but knowing they were safe, he chose to stay and help others survive the storm. Only about an hour after the storm had passed, he posted a video on Facebook from the rubble of his home.
"Some of y'all thought I was playing when I said I'm still praising (God)," he said in the video. He was both smiling and holding back tears. "But you know what? I'm still praising Him and I'm still giving Him the glory because God is about to set me up for even bigger and better things.