The ASD – a failed policy or much-needed option?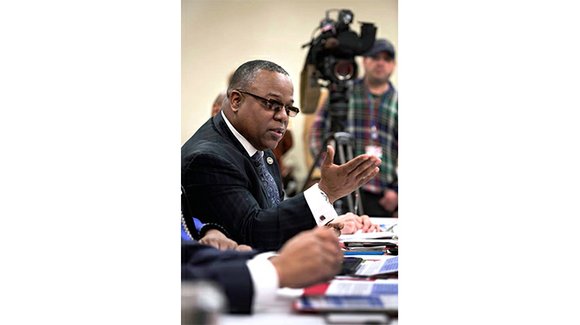 State Rep. Antonio "2Shay" Parkinson has become increasingly vocal in his position that the legislatively created Achievement School District (ASD) is now a failed policy that needs to be changed. On Monday, Parkinson and other members of the Tennessee Black Caucus of State Legislators held a press conference regarding ASD and called for moratorium on school takeovers by the district.
Now in its fourth academic year, the ASD is a statewide school district created to improve Priority Schools (failing schools) – schools performing in the bottom 5 percent of all schools in Tennessee.State law allows ASD to take over those schools and establish new leadership and policy to drive student achievement.
Parkinson and the Black Caucus are emboldened by the recent release of a Vanderbilt University study indicating that students at ASD schools are performing mostly at the same low levels they likely would have had their school not been taken over by the ASD. Meanwhile, they are aware that the iZone schools run by Shelby County Schools (SCS) have shown sizeable positive impact on student performance.
With that backdrop, Parkinson this week talked with The New Tri -State Defender about his viewpoints on the ASD, discussed possible legislative and community measures to ensure improved outcomes for students and delved into related issues for Raleigh/Frayser and the Greater Memphis communities.
"There is a real issue here relative to the policy that created the Achievement School District and the performance of the Achievement School District itself. We can definitely see the rising tide of public opinion as more information has become available," said Parkinson, who represents Dist. 98.
"This policy – whether intentional or non-intentional – has had a disproportionate impact on minorities in the State of Tennessee…. (The) performance of ASD has been dismal at best. So now parents and policy makers are beginning to voice their disdain for the now four-year failed experiment that is ASD."
Some look on Parkinson's sentiment as anti-school choice or a step backwards on advancing more options for students and parents.
"Many of us (legislators) are pro-school options or school choice, a few are not, but many are. So this is not about pulling back school options, as some would have you to think. However, it's not just options for the sake of options," said Parkinson. "If those new choices do not deliver better improved outcomes, they become a waste of precious resources. Even worse, if those given these so-called options don't have the resources (transportation, etc.) to make different decisions, school choice becomes school force."
The ASD, said Parkinson, is "coming in with a heavy-handed approach in Shelby County, but in other counties where there are schools that fall into the bottom five percent they have a 'pat on the back' approach. Instead of coming (in) taking over schools or bringing in out-of-state charter organizations to run those schools, they leave them alone and suggest those districts iZone schools or take other alternative measures to ASD takeover."
Parkinson believes he knows the ASD response to his assertion of a disparity in the application of the law in Shelby County versus other parts of the state.