G☺☺D BLUE & Y☺U
Chief Richard L. Hall – Germantown Police Department.
Kelvin Cowans, Special to The New Tri-State Defender | 12/21/2015, 1:41 p.m.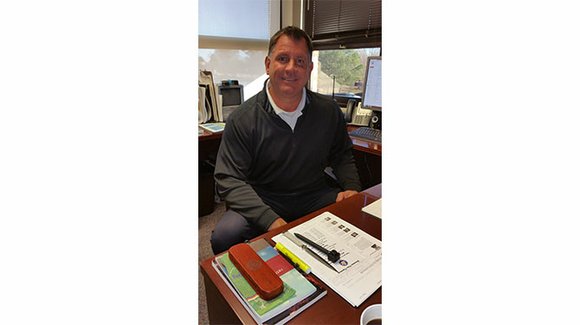 (Just as a neighborhood should not be judged by the actions of a few bad apples, neither should law enforcement agencies. The New Tri-State Defender's "Good Blue & You" column spotlights law enforcement officers who do it right.)
With the goal of further opening the lines of communication between the community and law enforcement, Good Blue & You makes its first foray into the Germantown Police Department, starting at the top with Chief Richard L. Hall, a 1980 graduate of Bishop Byrne High School. An experienced lawman and a people person, Hall's commitment to service is aided by smarts and a useful sense of humor.
Kelvin Cowans: You've been busy. I see you have plenty of diplomas, certificates and honors on your wall here. Can you share with us where you graduated from college?
Chief Richard Hall: Well my diploma says Memphis State but the correct name of it now is the University of Memphis and that was a degree in Science and Education in 1988.
K.C.: Go tigers! So, when it comes to law enforcement did you start out with the Germantown Police Department.
Chief Hall: No, I actually started with William Dwyer's Park Ranger Training program out of the University of Memphis. I worked a full season as a National Park Ranger of Atlanta Georgia Chattahoochee River. I did that for two summer seasons back when I was like 21, 22 years old. I was then recruited by the State of Arkansas (with) my first full time job (as) an Arkansas State Park Ranger at Lake Chicot State Park. I did that job for about a year.
K.C.: How did that translate or rather lead you to the Germantown Police Department?
Chief Hall: I had a friend of mine that was a park ranger and had gotten a job at the department and told me how nice it was, so I checked it out. Quite honestly, it was hard to go from Memphis to Atlanta and then to a village in Arkansas. So this wasn't a hard decision at all. Ha! And I don't want to be casting any aspersions because it would've been the perfect retirement job. I had a house on the lake, had my car and everything taken care of, but for a young single man it was not Atlanta and not Memphis. So I got hired in Germantown in 1985.
K.C.: Where did you start out here?
Chief Hall: I started as a police officer, a patrolman. From there I became a detective in 1988.
K.C.: OK, so which unit was that one named?
Chief Hall: Ha! Well, in Germantown at that time there was just me and one other detective and a sergeant over us; so we were over the entire city of Germantown.
K.C.: So, you covered everything from murder, robbery and down to stolen horses?
Chief Hall: (Lol!) You got it. It was not the level of trouble that we might see today. As of now I believe we have about 18 detectives. We're in good shape. Now quickly following that in the year 1989 I got promoted to field sergeant. Then in 1991 I was moved up to investigations lieutenant. I was then promoted to captain in December of 1992.