Sen. Cory Booker – issues, strategies, solutions and choices
As told to TSD Publisher Bernal E. Smith II
U.S. Sen. Cory Booker (as told to Bernal E. Smith, II) | 12/18/2015, 1:12 p.m.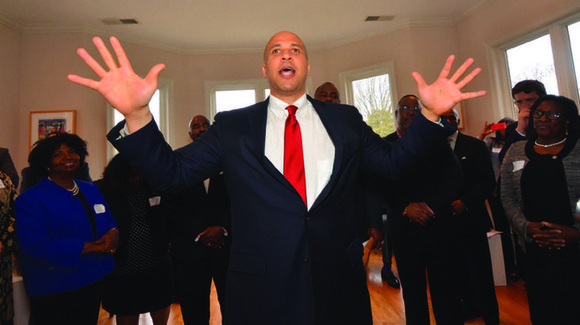 On Sunday (December 13), U.S. Sen. Cory Booker (D-N.J.) visited Memphis at the invitation of State Rep. G.A. Hardaway and the House Democratic Caucus. Hosted by the Hillary for America campaign, Booker focused on rallying and organizing the Memphis/Shelby County grassroots efforts for Clinton and raising awareness and support for the campaign.
After visiting four area churches – New Sardis Baptist Church, First Baptist Church-Broad, Christ Missionary Baptist Church and Monumental Baptist Church, Booker hosted a fundraiser for the Tennessee House Democratic Caucus at the home of attorney and Shelby County Commissioner Walter Bailey and his wife, Carolyn.
The New Tri-State Defender CEO and Publisher Bernal E Smith II interviewed Booker at The Four Way Grill, capturing the senator's take on a range of issues, beginning with U.S. strategies in dealing with the ongoing threat of terrorism.
'A lot of work to do to keep this country safe'
It's a shame that people have used the Syrian crisis and the French attacks to really turn their backs on our values as a country. Even after the attacks France continued to take in 30,000 Syrian refugees. They are trying to out "America" America, in terms of opening their doors to people who are escaping persecution or natural weather disasters.
We have a lot of work to do in the visa waiver program, the student visa program. It's amazing how easy it is for foreign nationals and criminals to buy weapons here or even people who are suspected terrorists. We should be looking at and learning lessons regarding sharing intelligence and loopholes in the visa waiver program. Those Belgian nationals that committed those acts in France could easily have gotten on a plane and come here and done the same thing without needing a visa. We have a lot of work to do to keep this country safe, but this should not be an opportunity for petty political point scoring but should be an opportunity for us having real conversation about how we protect our values as well as our security interest.
Gun violence, mass shootings & gun laws
The reality is that a country like ours that has tremendous ease in the availability of guns also has the highest level of gun violence on the planet earth except for war zones. Countries that have very low gun possession have very low levels of gun violence. More and more guns are not going to solve this problem. What we've seen in mass shootings is that even when there were people there with guns they have not been able to stop the mass carnage. I'm not saying that parents or grandparents (should not be able to) – as my grandfather did with my brother and I – take their kids out rabbit shooting or hunting, facilitating sportsman activities. Or that people shouldn't have the right to protect themselves. We don't want to impede people's Second Amendment rights, but we do want to create reasonable gun safety laws that stop terrorists and criminals and domestic abusers from having such ease of access to weapons.