TBI file details fight before Stewart's fatal shooting
900-page document includes testimony, video and photos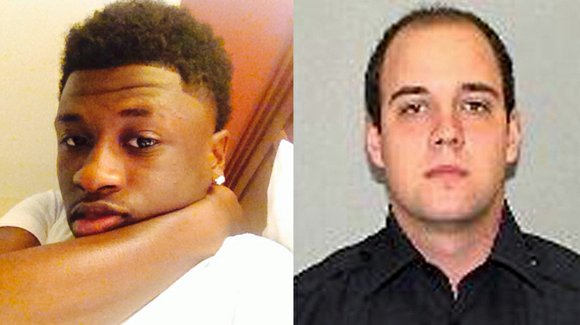 Five months after the fatal police shooting of 19-year-old Darrius Stewart, Shelby County District Attorney Amy Weirich has released the findings of the Tennessee Bureau of Investigation, which was brought in to ensure a thorough and impartial investigation.
Memphis Police Officer Connor Schilling shot Stewart during a July 2015 traffic stop. After Schilling learned that Stewart had outstanding warrants, he attempted to handcuff him, and the two men wrestled on the side of a stretch of Winchester Road. Two shots were fired. Stewart died later at Regional One Health.
Within hours, Weirich asked the TBI to investigate. By August 20, TBI had completed its investigation and the public was clamoring for Schilling to be charged with murder.
"This office recommended an indictment of voluntary manslaughter and employment of a firearm during the commission of a dangerous felony, but a Shelby County Grand Jury declined to indict," Weirich said in a statement on scdag.com. "The report is being released by an order of the Shelby County Chancery Court that granted a petition filed by this office to make it available as a matter of public interest."
Although pared down for space and with portions redacted for privacy, the file is massive – 545 MB as a ZIP file. It includes more than 900 pages of documents, photos and video. TSD staff sifted through the document. To review the document for yourself, click here:
TBI report on Darrius Stewart shooting.
The Driver: "He was acting scared to get out of the car."
Stewart was a backseat passenger in a 2009 blue Chevy Malibu when Schilling pulled the car over for a busted headlight. The driver, whose name was redacted from the TBI file, was issued a citation. Schilling checked for outstanding warrants on all three passengers.
"He told Darrius he had a warrant," the driver told MPD investigators. "Darrius was hesitating to get out of the car and said he was scared. . . . (Schilling) kept telling him nicely to calm down and get out of the car. He told Darrius he would tell him in a minute what was going on. The officer told him nice and professional and that is when I told him (to) just get out of the car and go on and cooperate."
Schilling put Stewart in the back of his patrol car – without handcuffing him – while he verified the warrants. Schilling told the driver he was free to go, but that he was taking Stewart downtown for booking. The driver went to get Darrius' mother, who trailed him back to where the traffic stop happened.
"When we got there, we saw all the police cars and we seen the officers putting up the tape," the driver said. "(The other passenger) jumped out of my car and ran to the middle of the street and started screaming, being extra emotional."
Schilling: Stewart "seemed like he was going to give me no problems"
The TBI contacted Schilling to interview him on July 21. Schilling agreed to come in with an MPD union representative at 10 a.m. the next day. And although he did consent to a DNA swab, he declined to talk further about the incident with TBI.