Justice Department 'reviewing' Darrius Stewart shooting
Announcement comes one day before release of TBI report.
Lee Eric Smith | 12/15/2015, 1:55 p.m. | Updated on 12/14/2015, 3:57 p.m.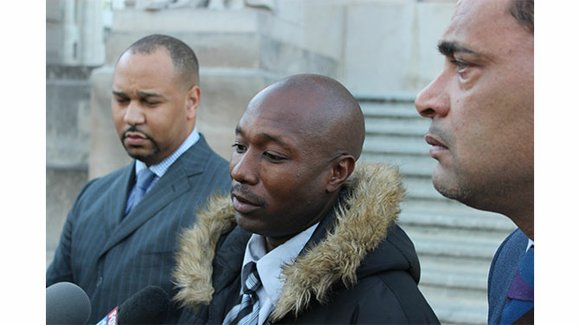 Mere hours before the public finally gets its first look at what the Tennessee Bureau of Investigation found in the fatal police shooting of Darrius Stewart in July, the U.S. Department of Justice announced its own review of the case.
Edward L. Stanton III, U.S. attorney for the western district of Tennessee, made the announcement in a Monday afternoon press conference, saying that the DOJ had been in contact with Stewart's family and legal team to gather "any and all information and evidence which could potentially be relevant in this case."
"At this time, we do not have any announcements to make regarding the outcome of the department's review," Stanton continued. "As with any matter that is not complete or final, I'm unable to provide any specific information about internal Department of Justice deliberations."
Just last month, despite Shelby County District Attorney Amy Weirich's request for an indictment, a grand jury elected not to charge Memphis police officer Connor Schilling in Stewart's death.
Weirich came under fire earlier for asking TBI to investigate the case, given that TBI investigations are sealed by law. Even then, however, she indicated that her office intended to release some or all of TBI's 800-page report for transparency's sake and to counter rising local and national concerns about justice in officer-involved shootings of black males.
Ever since the grand jury's decision, Stewart's family and #blacklivesmatter activists have been calling for the DOJ to look into Stewart's death and whether his civil rights were violated.
"This matter remains a priority for the department," Stanton said. "It is important that we move in a timely manner in the resolution of this case, but it is equally important that we get it right. And we plan to do both."
Schilling made a traffic stop on the evening of July 17 at 5799 Winchester Road and Stewart was a passenger in the car. Stewart was put in the back of the squad car while Schilling checked for warrants. Two outstanding and out-of-state warrants popped up and Schilling reportedly opened the door to remove Stewart, place him under arrest and put him in handcuffs.
According to Schilling, Stewart, who was not armed, attacked him, striking the officer with his own cuffs. The encounter turned deadly with Schilling shooting Stewart twice. He was pronounced dead at Regional One Health.
Stewart's father, Henry Williams, is represented by attorneys Carlos Moore and Arthur Horne. The trio held a press conference in front of the Criminal Justice Complex Tuesday afternoon.
"We are here to express our delight over the Department of Justice opening an official investigation into the circumstances surround the death of Darrius Stewart at the hands of Connor Schilling" said Moore.
"It's been nearly 150 days, so this is some welcome news to the family," said Moore. "We are cautiously optimistic that the Department of Justice will do a very thorough investigation. We understand from U.S. Atty. Ed Stanton (III) that it will be impartial, it will be thorough and independent. We believe the evidence will be there to hopefully lead to an indictment."