Judge Joe Brown is right where you left him – in your face
'Turn Up,' 'True Verdict' and a view of Hollywood sex tapes.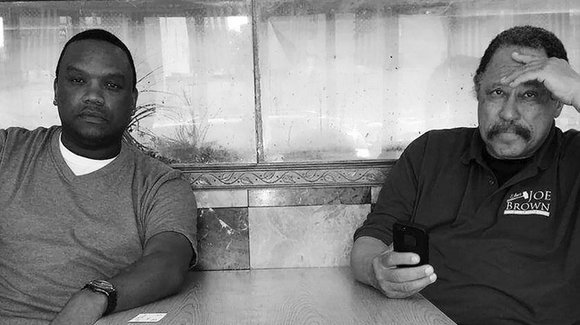 "I'm behind the scenes in Memphis and I like it like that. I'm doing a few things with some people that are working towards a national level and I like what they are doing – their work ethic, talent and perspective … They have 'next' out of this city," said Joe Brown.
It was another in a string of upfront conversations that I've had with the man at the root of the iconic television figure Judge Joe Brown. Much of our exchange is captured in three volumes of "Judge Joe Brown Turn Up!!!
"'The Turn Up!!!'" CD is special to me as I was able to speak many of the truths that I'm known for," said Brown. "I speak about manhood, Illuminati, Black America, Juneteenth, 'The Judge Joe Brown Show,' being arrested and many things some people will never know about Hollywood. I been there, done that."
Looking back on his show, Brown recalled producers who dealt largely in fantasy and not reality.
"I spent a lot of time trying to tell them that this was the real world and you can't operate outside of it in the manner that you're doing it. It became difficult dealing with them," he said. "Waking up every day to go deal with that mindset was challenging. I knew where I wanted to take that show but it was met with resistance at every turn."
Kelvin Cowans: Some would say that's why we watch the shows and pay our money to go see the movies…because they are entertaining us by creating a world of fantasy.
Judge Joe Brown: Yes, a world of fantasy that they have transitioned into a life of fantasy. Take for instance, Hollywood doesn't like the idea of manhood. Purposely they are anti-masculine. It started back in the late- to mid-sixties after the Vietnam War. The perception was that war was a man thing. So the way to stop war is change the nature of men, starting with their upbringing and make them more like women in the way they were raised.
That developing, it was unisex clothing, no cap pistols, no cowboys and Indians and no playing soldier. They said that men were too uptight and unemotionally evolved, so they set out to emotionalize men and haven't stopped to this day."
K.C.: Now that you have secured financing for and (are) embarking upon a new TV show, "True Verdict," which will be produced by your own production company, Celebritunity, I'm sure you'll be able to implement many of the things in the show that you believe in without interference.
Judge Brown: Absolutely! I will have more control of the truth that's coming across the screen. People want to hear about what's right and what's wrong and that's what my show is going to be about. One of the bad problems I ran into was this effort to get rid of standards. I talked about duty, honor, obligation, responsibility, accountability and ethics. (The) mood for Hollywood was to destroy those things because they were getting in the way of what they called fairness. I've always believed that the truth was fair.