"Inside Ferguson" author Devin James, a companion and a 5 year old arrested, jailed in Lincoln, Neb.
State police handling the incident; cellphone and dashcam videos said to record the encounter.
Tony Jones | 8/29/2015, 1:45 p.m. | Updated on 8/30/2015, 1:40 p.m.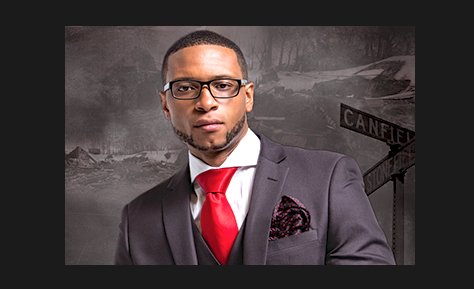 UPDATE: Sunday, Aug. 30 - Devin James has been released following his arrest in Nebraska and confinement in a Lincoln jail. The New Tri-State Defender has made contact with him, with an interview scheduled for later today. Will update our readers asap!
In frantic calls Friday afternoon from the Lincoln, Neb. jail, Devin James, author of the recently released current affairs memoir "Inside Ferguson: A Voice For The Voiceless," called The New Tri State Defender to report that he and girlfriend Alicia Campbell had been arrested while traveling through the city.

Campbell's five-year-old daughter was in the car as well. In a separate call from the jail, Campbell reported that her child was being held in county custody until a hearing on Wednesday, Sept. 2.
The calls were made separately from a computerized line identifying them as coming from the Lincoln, Neb. jail system.
James is a Memphis native. His book is featured in the TSD's print edition this week, along with a story posted at TSDMemphis.com. A family member texted the TSD to arrange the calls, which occurred Friday afternoon.
At 5:50 a.m. on Saturday (Aug 29), Lincoln Police Department Capt. Kerry Roeder confirmed that James and Campbell were in custody. Roeder said the Nebraska State Patrol had made the arrest and that the arrest records reflecting the charges were not available through the Lancaster Police Department.
The TSD reached out to the Nebraska state police soon after learning that the law enforcement agency had charge. A media representative sent this text message: "I am away from the office on vacation. I will see what I can find out for you."
James and Campbell said James' phone contains a video of the incident, described first by James.
"We were going there for meetings to set up the book tour. The next thing we know we were being pulled over. Alicia was driving; I was in the passenger seat. He (the state patrolman) asked for her license and registration. She asked why we were being pulled over and he told her to get out of the car. We know our rights. I'm trained in proper police behavior. He wouldn't tell us what we were being pulled over for. I started filming with my cell phone."
James said the officer got hot when Campbell tried to retrieve her cell phone to show the officer her insurance record, kept on her cell phone.
According to James, the officer that pulled them over smashed one of the car's windows with his hand.
"He was treated for the injury, but nobody has done anything to check us for any potential injury. I have a disability in my wrist and when they handcuffed me I told them about it but he twisted it like he was trying to break it."
James said that during the melee the officer told him, "I know about your book" and about James' background. In 2006, James was convicted of reckless homicide in what he describes as a home invasion and attempted robbery. He credits Tenn. Rep. Barbara Cooper (D-86) with helping to get his life back on track.