"Teach LeBron! School 'em son"
"A LITTLE R&R ON SPORTS": Straight outta Akron, few, if any, have ever returned home like LeBron Raymond James.
Howard Robertson and Larry Robinson, Special to The New Tri-State Defender | 8/26/2015, 1:46 p.m. | Updated on 8/27/2015, 4:22 p.m.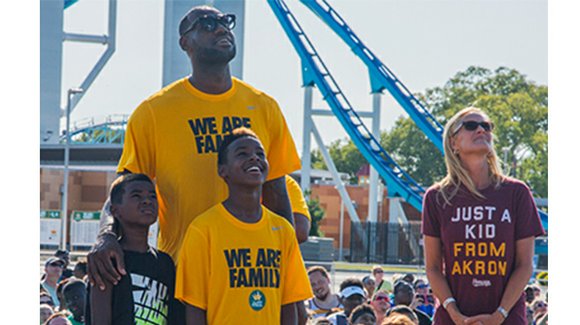 The movie "Straight Outta Compton" is a box office smash. In addition to chronicling the experiences and exploits of NWA as well as the individual and collective impact they've made on music, the movie's logo has given people opportunities to rep their 'hoods and hometowns in social media. You can go home again and there's no place like home as so many people have shown. But few, if any, have ever returned home as prolifically and powerfully as LeBron Raymond James.
In June 2014, we wrote the following:
"If you believe he's a physical 'freak of nature' in terms of size, speed, agility and ability, then break on down, give him props and acknowledge that he's also an intellectual 'freak of nature' with maturity, savvy, leadership and communication skills that greatly transcend his age, background and educational attainment. He has become: the most complete player in the NBA, the leader of two world championship teams and two runners-up, an astute multi-millionaire businessman, a strong cause-related philanthropist and by all indications he is an incredibly devoted husband and loving father, despite not having one in his life. Unfortunately LeBron James' example is a huge exception to the rule for the experiences of the majority of gifted athletes raised by single mothers in poor, urban environments."
Back then, we were talking about the Miami Heat's Lebron James, but not a month later he announces that he's coming home to Akron and the Cleveland Cavaliers. Suddenly, the angry balled up fists of Dan Gilbert and hundreds of thousands of the Cavalier faithful opened widely for handclaps of praise, shouts of "Hallelujah" and to throw money. The fans were throwing their money for tickets. Gilbert was throwing his money for talent required to surround and support his homeboy.
And so LeBron returned. And so Cleveland returns to being Eastern Conference Champions (funny how that happens) and playing for the world title before finally being overwhelmed by the Golden State Warriors.
A couple of months later, LeBron starts throwing money too. Through the LeBron James Family Foundation he's throwing money, $26,311 and some change for four years to thousands of children for full scholarships to the University of Akron. That's about $105,244 each over four years.
But, what if say 1100 of the 2300 eligible students in his I Promise Program successfully complete four years of college? How much will that cost Bron Bron? Answer: $115,768,400 and some change.
Then last week, while the biggest name in sports was giving away hundreds of millions to education, it only received perfunctory media coverage because they were too busy majoring in the minors of air in footballs and if Rihanna really knows Matt.
But what manner of man is this? How does a man whose (in the words of Shaq O'Neal) "biological didn't bother" choose to become a de facto daddy to thousands of disadvantaged kids by spending potentially hundreds of millions of dollars on their educations? How does a man who never spent a second as a college student in anybody's university end up basically endowing his hometown university with hundreds of millions of dollars for years to come?