'Shifting' defines 'The LEAP Summit'
Aug. 26-29 event designed to teach, inspire, give 'divine connections'.
Wiley Henry/whenry@tsdmemphis.com | 8/13/2015, 1:43 p.m.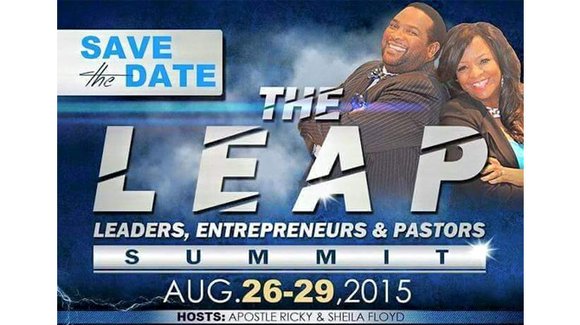 Eliminating negative images and unfavorable perceptions of inner-city churches – and recasting them as worship centers with dominion and authority over every segment of one's life – is the impetus behind The LEAP Summit (Aug. 26-29) at the Pursuit of God Transformation Center (POG), 3171 Signal St.
LEAP (Leaders, Entrepreneurs and Pastors) is the brainchild of hosts Apostle Ricky Floyd and his wife, Pastor Sheila Floyd, who envision the church with greater authority, keen vision, solid principles, and a church, he said, that is in need of a cultural makeover.
"So the vision of LEAP is to awaken the church," Floyd said.
Floyd will kick off the summit next Wednesday at 7 p.m. Dr. Samuel R. Chand, a leadership architect and consultant, author, change strategist and speaker based in Stockbridge, Ga., and Bishop E.L. Warren, pastor of The Amazing Cathedral of Worship in Quincy, Ill., will be the luncheon speakers Thursday at noon. Dr. Chand also will deliver a 7 p.m. message.
Dr. Stacey Spencer, senior pastor of New Direction Christian Church, will speak Friday at 10 a.m. and Bishop Warren will follow with a message at 7 p.m. Empowerment workshops will take place both Friday and Saturday.
Workshops start at 10:45 a.m. and again at 7 p.m. Don Hutson, a global expert on sales and negotiations and author of the New York Times best selling book "One Minute Entrepreneur," will be the luncheon speaker at noon on Saturday.
Workshop speakers include the Rev. Rhonda Pettigrew, co-pastor of Destiny Church in Jackson, Tenn.; Sam Garrett, CEO of Madison Line Records in Memphis; Myron Mays, radio talk show host and social media guru; Charlie Caswell, author and community activist; Elder Maryilyn Parker of Greater Faith City of Love in St. Louis; and Apostle Tony Wilson, entrepreneur coordinator for Mid-South Community College.
Other workshop speakers include Dr. Tonya Lyons, owner of New Image Family Dentistry and co-founder of Rock Church Memphis; the Rev. Darryl Hilliard, pastor of Rhema Word and Worship Church in Brookhaven, Miss.; recording artist Antonio Neal; and Brennan Hill, The New Tri-State Defender's digital content manager.
There's more: Sylvia "Monique" Reed, a consultant for Arbonne Essentials; Shelia Floyd, LEAP's co-host and POG's co-pastor; Bishop Gerald Patterson, pastor of Words of Faith Deliverance Ministries in Tupelo, Miss.; and state Rep. Antonio Parkinson (Dist. 98).

There is a registration fee to attend the summit. Night sessions, however, are free.
"The Lord had given me a vision probably about 6 or 7 years ago, that the only way there's going to be a change in the community is that you have to get the seven Ps together: Pastors, Principals, Policemen, Parents, Politicians, Partners and Proprietors," said Floyd.
He equates the seven Ps with the seven kingdoms in the Bible.
"Whoever rules these kingdoms will rule the world," he said. "These seven kingdoms are Business, Politics, Arts and Entertainment, Family, Religion, Education and Media."
The church, he said, has no authority over the "seven kingdoms." LEAP is the vehicle to bring his vision to fruition. "The church is supposed to have dominion," he said. "So God has allowed me to bring together an assembly that I call the most "brilliant minds…."