New app taps social media to help ease the college search process
Socially-conscious developers "ready to change the game"
Brittney Gathen/Special to The New Tri-State Defender | 8/7/2015, 5:07 p.m.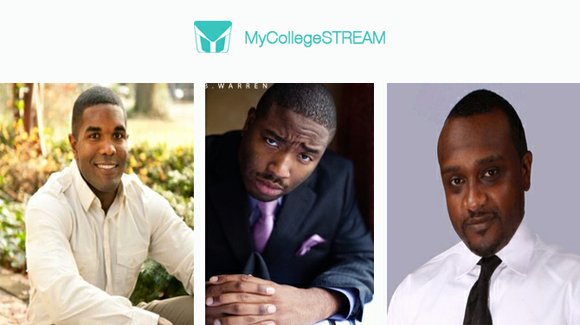 Given the volume and variety of colleges and universities in the U.S. and the ever-growing number of social media sites, it's no wonder some are daunted by the college research process. MyCollegeSTREAM is designed to meet that challenge.
The web app – launched in 2014 by Tony Malone, Brian Summerhill and Bryant Warren – was created to assist students and guidance counselors. MyCollegeStream aggregates college social media accounts and customizes content for users' favorite colleges and interests. It also provides guidance counselors with information about universities, community colleges and technical schools with real time social media updates.
While there are many apps that provide college information, Malone said their's is the first to integrate social media. Summerhill came up with the idea while researching different colleges after earning his bachelor's degree from Auburn University. He used a lot of social media during the search process. When he came upon the University of Memphis (where he later got his masters' degree), he noticed that it had multiple pages.
Thinking that there should be a better, easier way to find social media content from a college, Summerhill teamed up with Warren, who developed the software, and, Malone, who serves as the chief marketing officer, to create an app that simplifies the college research process using social media.
The initial intent was an app to provide information about activities on different campuses.
"As we began to do our research and get more in depth with customer development and discovery, we realized that there was a true need for something to assist guidance counselors and help students in making better choices when making decisions about which college to go to or what they even want to major in," Malone said.
Malone noted that in some instances there was a single counselor designated to help hundreds of students.
The group conducted customer development research at Sheffield High School prior to the end of the school year. The goal was to determine what students would want to see in the app. In May 2015, they were accepted into Start Co. – a local business accelerator and venture development group that assists start-ups.
Sheffield High School is envisioned as a pilot school for the MyCollegeStream app. The trio's goal is to have the app software in all schools in Memphis by the end of October. Over the summer, they reached out to various schools.
Community colleges and trade schools that accept the Tennessee Hope Lottery Scholarship are included in the app software system. To access the features of MyCollegeSTREAM, the app software must be implemented at a student's school. That would come after a meeting in which school employees would be instructed on the benefits and uses of the app software.
Guidance counselors and teachers in the school would then be trained to use the software. Students can then create their own username and password on MyCollegeSTREAM.com and access the information provided via social media on the site.
Users can customize their college social media interests by categories such as athletics, education, campus diversity, Greek life, news and more. In addition to having access to the app software on their computers, students can also access it on other devices such as phones or tablets.