'Ms. Scott, you are simply great'
Jill Scott's stage presence was awesome during her performance at the Orpheum Theatre in Downtown Memphis on Tuesday night (Aug. 4)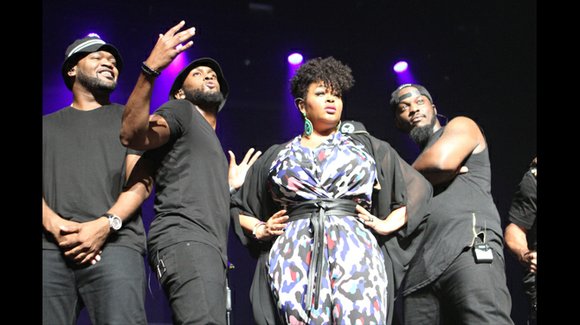 With a new album – "Woman" – and her ever-cool style, Jill Scott treated Orpheum theatre-goers to a first-class performance and they showed her 'the love' in return on Tuesday night.
The sistah with the soulful, earthy voice provided plenty of proof as to why her latest work rose to No. 1 on the Billboard charts.
Before a sold-out crowd at the Orpheum theatre, the band began to play an up-tempo song about Philadelphia. As the backup singers found their groove, out struts Jill Scott looking fabulous in a one-piece multicolored jumpsuit. The band broke into her hit song "The Real Thing," which was featured on her third album. By the time she finished, the crowd was roaring and showing approval with a standing ovation.
Next came the hit "Whatever" followed by some timely interaction with the crowd. It went something like this:
"Since everyone is snapping photos with flashes going off in my face, I am going to take off my shoes and pose for yawl."
So she poses for some photos with her backup singers and the band and says, "That should be enough, you're blinding a sistah. You should police yourselves and show a sistah some respect."
The crowd roared.
Release yourselves, she said, quickly adding, if you can't release yourself, release the one next to you.
Mixing her music and philosophy throughout the night, she triggered standing ovations as she talked about relationships and intimacy. It was truly an adult show.
For those keeping track, she also sang "Crown Royal," "Cross My Mind," "Hate On Me" and "Long Walk." "Fool's Gold" is a hit from her new album and when she got to it, she said police don't need to be police – Fool's Gold.
Shouts for an encore after she exited the stage brought her back to perform "Blessed."

Scott separates herself from the other singers by not just singing, she puts on a show with a purpose.
Ms. Scott, you are simply great.