Sista Strut steps out strong for breast cancer awareness
Tiger Lane packed with supporters of inaugural event to heighten awareness about the issues of breast cancer in women of color.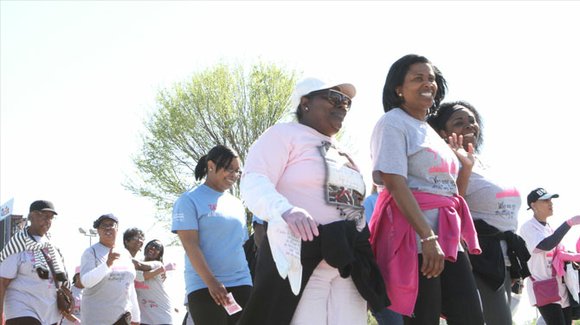 Sista Strut – designed to heighten awareness about the issues of breast cancer in women of color – debuted in Memphis in a big way on Saturday.
Hosted by iHeart Media, the inaugural event drew 5,500 participants to Tiger Lane. Each was an advertisement in motion for the importance of African-American women getting checked for breast cancer.
Also part of the pitch was the importance of healthy eating and being actively involved in one's health, including self-checks and being alert for early signs and indications of breast cancer.
Local celebrities were in abundance for the event. Mayor AC Wharton Jr. noted that breast cancer affects African-American women more than any other group. Ruby Wilson sang "Lift Every Voice" and "The Star Spangled Banner." Other notables showing support through their presence included Congressman Steve Cohen, Bobby O'Jay, Bev Johnson, Stan Bell, Devin Steele, Stormy Taylor, Angela Jackson Sheila Whalum.
Even before the event kicked off there were indications of widespread support, with 4,000 people registering in advance. Organizers created opportunities for the distribution of information on community resources.
Allison Perry made her way to the event. Last August, Perry was diagnosed breast cancer, acknowledging that she had not put any focused thought on the deadly disease beforehand. She now is among those trumpeting the importance of early detection.
Stax Academy students added their special brand of entertainment to the outing, putting on another stellar performance.
Funds from the event go to help local nonprofits engaged in supporting African-American women confronted with breast cancer.