A triumph of talent: An evening with Alfre Woodard
The setting was a night of poetry, insight and reflections entitled "A Triumph of Talent" at the University of Memphis.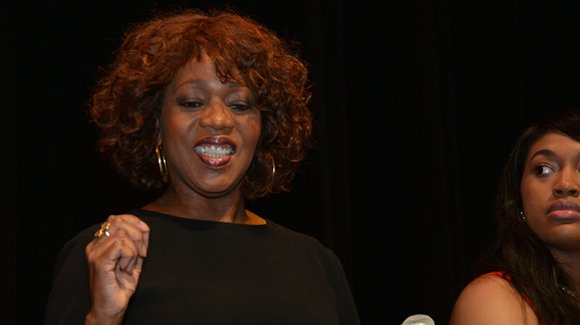 "I live my life in defense of justice, in support of the common good and in pursuit of perfectly rendered characters," renowned actress Alfre Woodard told a Memphis audience Wednesday night.
The setting was a night of poetry, insight and reflections entitled "A Triumph of Talent" at the University of Memphis. Previously scheduled for Black History Month but cancelled due to the weather, the event reflected collaboration between the Student Event Allocation Committee and the Black History Month Committee.
Woodard's reflection came as she put her career purpose in context, explaining that it goes way beyond simply getting roles. The Academy Award nominated and Emmy Award winning actress has appeared in films such as "12 Years a Slave," "The Family That Preys," "Love and Basketball" and "Crooklyn." She now stars on television as the president of the United States in NBC's "State of Affairs."
During the event, Woodard read poems such as Nikki Giovanni's "Art Sanctuary" to examine and discuss different parts of her life. She reflected on her journey to a career in show business, which included a budding interest in acting while at Bishop Kelley High School in Tulsa, Okla. Patrick O'Brien, who once worked at the school and later worked at Christian Brothers University, got her interested in the film industry.
"Once a month, Brother Pat, who was a major film buff, would shut down the school, bus us to the nearest cinema, and he would screen … films like "Citizen Kane," "Incident at Owl Creek Bridge," "The Red Badge of Courage" … and then everyone would have to write a dramatic criticism of that film and discuss it for the next week in all the language or humanities classes," Woodard said.
The trips, she said, played a key role in her choice to pursue an acting career.
"The power of the screen opened me up to the world and to possibilities," Woodard said. " I recognized the power of the moving image and storytelling. …I wanted to join this possibility, this movement, this film community. This would be my weapon of choice, storytelling."
Confident of her direction, Woodard attended Boston University, and later moved to Los Angeles. Her "weapon of choice" has brought her multiple honors, including Emmy Awards for her work on shows such as "The Practice" and "L.A. Law," a Golden Globe Award for the film "Miss Evers' Boys," and an Academy Award nomination for her role in "Cross Creek."
Woodard encouraged audience members to use their talents and to blaze their own paths.
"Everybody has a path, so set yourself on your path," Woodard said. "If you're really trotting it well, it will zig and zag, it will go in fits and starts, (and) there will be dead ends."
The only requirement of trailblazing is to keep moving forward, Woodard said.
"You, too, must trail blaze. You must bring your gifts to the healing of the nation, to the healing of our planet. Create new awareness, new perspectives and new language. Bring your open sensibilities into the communities into which you will live and which you will travel; your very presence will transform them."