'Heartache to Harmony'
The Church of God In Christ and the City of Memphis are joining the National Civil Rights Museum in an April 4th commemoration that includes "A Memphis Musical Tribute to Dr. Martin Luther King Jr."
TSD Newsroom | 4/1/2015, 3:41 p.m.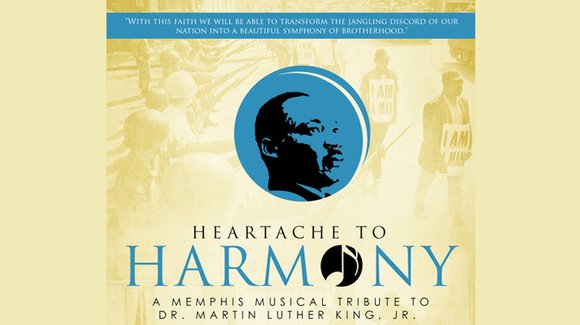 The annual April 4th Commemoration at the National Civil Rights Museum is a community-focused observance of the life and legacy of Dr. Martin Luther King Jr. on the anniversary of his death at the Lorraine Motel on April 4, 1968.
This year the Church of God In Christ (COGIC) and the City of Memphis are joining the National Civil Rights Museum in the April 4th Commemoration, "Heartache to Harmony - A Memphis Musical Tribute to Dr. Martin Luther King Jr."
COGIC will conduct a march starting from Mason Temple, where Dr. King gave his famous "I've Been to the Mountaintop" speech, to the National Civil Rights Museum at the Lorraine Motel. After the march, a combined program of COGIC, City of Memphis and the Museum will feature the Memphis Symphony Orchestra, the Central High School Choir, vocalist Debra Manning Thomas, music from local artists Justin Merrick and Al Kapone.
The program will start at 10:30 a.m. and kick off a day-long commemoration to Dr. King.
"We are very excited to again unite with the community to remember the man that is the reason for the National Civil Rights Museum's existence. Dr. King's sunrise and his sunset are milestones for us and we encourage everyone to remember, but then respond to the issues facing our communities today, in a manner that would make Dr. King and all those foot soldiers proud," said Museum President Terri Lee Freeman.

"We hope that the people of Memphis and those visiting the city will come to the Museum and join us on April 4th as we reflect and push forward in remembrance of Dr. King."
In the afternoon, the Museum will broadcast recorded speeches by Dr. King in the courtyard along with movement music from different genres and protest periods.
At 5:30 p.m. the Museum's April 4th Commemoration will feature the changing of the wreath on the balcony of Room 306, where Dr. King was slain, and a moment of silence at 6:01 p.m., the time the fatal shot was fired in April 1968. The guest speaker is the Rev. Earle Fisher, the pastor of Abyssinian Baptist Church and adjunct instructor of Contemporary Theology at Rhodes College.
Saxophonist Steevon Hunter will play "Precious Lord," one of Dr. King's favorite songs. The program will conclude with a salute to Dr. King by Alpha Phi Alpha Fraternity, Inc., of which King was a member.
All events are free.
April 4th Events – Museum Courtyard:
• 10 a.m. – COGIC March from Mason Temple to National Civil Rights Museum;
• 10:30 a.m. – "From Heartache to Harmony: A Musical Tribute to Dr. King, Museum courtyard;
• 12:30 p.m. to 5 p.m. – Courtyard broadcast of Dr. King's speeches and movement music
• 5:30 p.m. – Tribute on the Balcony, with 6:01p moment of silence, Museum courtyard