Men who care
Caregivers' dedication merits attention, awards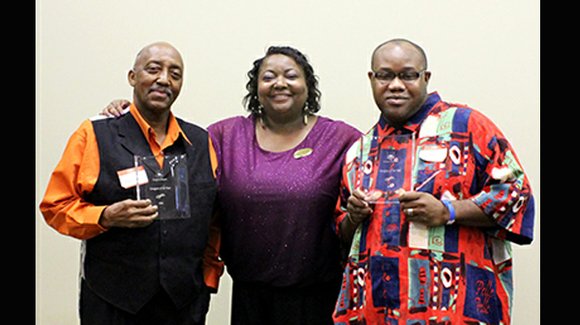 Reed Hayslett, who is the primary caregiver for his brother, T.W. Hayslett, was raised "in that type of environment where if certain things were needed in your family, you just did it." (Photos: Stroudmark Photography)
Reed Hayslett and Bryan Morton, selected to receive the Caregivers Respite Caregiver of the Year Award, with Janice Williams, who founded Caregivers Respite in 2010.
Men who care
by Brittney Gathen
Special to The New Tri-State Defender
November is National Family Caregivers Month, which focuses on the challenges family caregivers face. The theme – "Care Comes Home" – zeroes in on home caregiving, shining a light on the toll on caregivers.
Although studies show that approximately 66 percent of caregivers are women, men are increasingly taking on the role. That fact factored into the decision that prompted Caregivers Respite, a local organization that helps caregivers take better care of themselves and their loved ones, to honor Reed Hayslett and Bryan Morton.
During the ninth annual Caregiver's Rest Conference held Nov. 11 at The Church Health Center, Hayslett and Morton each won the Caregivers Respite Caregiver of the Year Award.
"It felt good to receive the award and (for) them to recognize me, but I don't feel like a reward was necessary because maybe I was raised in that type of environment where if certain things were needed in your family, you just did it," said Haysett, who cares for his brother, T.W. Hayslett, who has diabetes, is in a wheelchair and has a defibrillator in his heart.
Hayslett's exposure to caregiving includes having attended a caregiver support group to support his wife as she cared for her mother. He now finds it rewarding to contribute to his brother's well being, even though he has to do some things without the aid of equipment.
Hayslett's brother appreciates his dedication.
"A lot of brothers wouldn't do that," he said. "You have families now that are kind of split."
Morton, who works at HealthSouth Rehabilitation Hospital, cares for his wife and stepdaughter, who both have chronic conditions. He has worked things out with his work schedule and is quick to acknowledge the strong support system and spiritual life that he relies upon.
"As long as my wife and daughter are healthy, that's my reward – to see that I'll be there for them," said Morton, who also was a caregiver for his now deceased first wife as she battled Multiple Sclerosis and underwent two surgeries. He looks at caregiving as a normal job, adding that he tries to be strong and motivational for his family.
Morton's wife, Davida Morton, whose health challenges include lupus, admires his dedication and nominated him for the award. She spoke of his dedicated care of her and her daughter, who has fibromyalgia.
"He'll catch a ride, he'll walk to wherever we are, he'll catch the trolley to make sure he gets to us, to make sure we're OK, and that we have medical treatment," Davida Morton said. "When I'm in pain, unlike in the last marriage, he understands me and my daughter's conditions."