Book recalls all-Black Navy band that included trumpeter from Pgh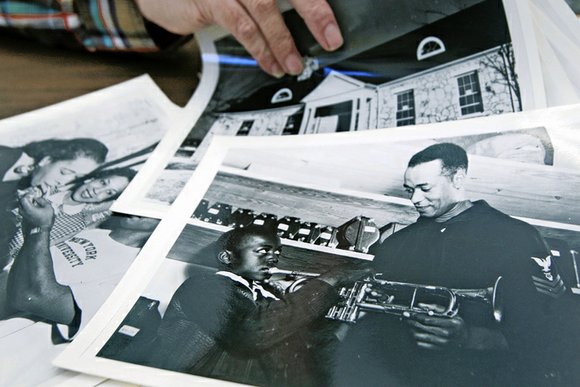 GREENVILLE, N.C. (AP) — Being a hero is not always about staring down the barrel of a gun.
A hero is someone who lives life with dignity and grace when circumstances encourage and expect anger and violence.
An East Carolina University professor recently published a book profiling a group of World War II veterans who lived that second form of heroism when they broke the modern Navy's racial divide.
Alex Albright's "The Forgotten First: B-1 and the Integration of the Modern Navy" tells the story of the men who performed in B-1, an all-Black Navy band stationed at the U.S. Navy Pre-Flight School at the University of North Carolina at Chapel Hill. They were the first Black men to earn an enlisted rank. Until then, Blacks only could serve as mess men and stewards, the lowest ranks in the Navy.
"They were very brave men," Albright, an associate professor of English, said. "When you think of bravery, you associate it with front-line fighting. But bravery and courage are defined in a lot of different ways, especially in how you live your life."
The U.S. Navy — especially in the early 20th century — had the most racist policies of the nation's armed services. Blacks were banned from serving in the Navy after World War I until 1937 when servant positions — mess men and stewards — were open to them.
President Franklin D. Roosevelt and his wife, Eleanor, wanted more, Albright said.
"There was a lot of federal interest in making the South behave, to stop lynching people, to allow voting and to allow equal rights," Albright said.
However, Roosevelt's political capital was tied to southern Democrats so he could not take aggressive steps, he said.
With the United States' entrance into World War II, Roosevelt's supporters saw an opportunity for further integration.
A Naval pilot training school opened at the University of North Carolina at Chapel Hill. The late Frank Porter Graham, then the school's president, and members of the Roosevelt administration, decided to recruit an all-Black band to play at the school.
"Music was seen as non-threatening," Albright said. However, bands had an important role in Navy culture.
Everyday activities in the Navy of World War II were carried out to music. Naval cadets were marshalled out of their barracks to band music and music was played during training marches, Albright said. It also was part of every ceremony held by the Navy.
During the course of the war, there were more than 100 Black bands performing and several hundred white bands.
In early 1942, the Navy started recruiting students from North Carolina Agricultural and Technical College (now North Carolina A&T State University), which had a nationally recognized music program. From there, students from local high schools were recruited.
"They were both sheet music and sight players (who would play based on the conductor's directions)," Albright said.
One of the students was Huey Lawrence, a Pittsburgh native who went to A&T to study history and play football.
Lawrence was a trumpet player who learned from Italian immigrants living in his neighborhood. He paid for his lessons by collecting bottles and turning them in for the deposit.