FOR MEMPHIS UNITED, HOLDER VISIT IS A HIGH-PROFILE STAGE FOR ONGOING CONCERNS
12/10/2014, 1:28 p.m.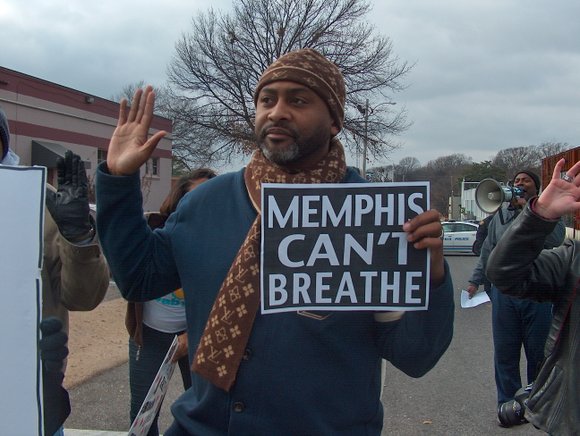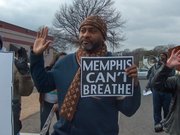 by Brittney Gathen
Special to The New Tri-State Defender
Memphis United – a coalition of grassroots organizations, community groups and Memphis residents formed to confront structural and institutional racism – used the stage of U.S. Atty. Gen. Eric Holder's visit to Memphis to amplify its focus on Tuesday.
Outside of the Hattiloo Theater at Cooper Avenue and Monroe, where Holder headlined the My Brother's Keeper Summit, demonstrators chanted expressions of their concerns.
"No justice, no peace. No racist police!"
"Hands up, Don't' Shoot!"
"I can't breathe!"
"We've been pushing around a lot of issues around criminal justice reform for a long time now. We know that right now all eyes are on Memphis, and that Memphis is in the national spotlight with [Attorney General] Eric Holder coming here today," said Paul Garner, organizing coordinator of H.O.P.E. (Homeless Organizing for Power and Equality) of the Memphis Peace and Justice Center.
"We want Memphis to be represented in this national conversation about police accountability and police violence. We also want to lift up some local issues and national issues."
Memphis United's objectives include: requiring body cameras for all MPD officers, having a Civilian Law Enforcement Review Board with more power to hold police accountable, reform to prison sentencing, and an end to the War on Drugs.
"What we're really here today to ask for is nothing short of a systemic revolution within our criminal justice system and within the institution of law enforcement, all across America," said Garner.
"I think people are tired of hearing the mayor's office and the police department go back and forth about what they're going to do, and people want to see them take some concrete steps," Garner said.
Mayor AC Wharton Jr. has outlined steps to address youth violence, including parenting centers and a stricter curfew for teens 17 and 18 that requires them to be home by 11:30 on Sunday nights instead of midnight.
"Personally, I think curfews are racist and left over from the civil rights era, when they were used to basically keep people imprisoned in their neighborhoods," said Garner. "I think if we're really going to talk about violence, we need a systemic analysis and we need to talk about poverty, because I think poverty is the systemic root of most of the violence that we're seeing in our community."
The youth merit a bigger role in causing change in Memphis, he said.
"The youth are the solution, not the problem. We've talked to a lot of young people that have a lot of really good ideas about things that they want to see in their city," Garner said. "Instead of telling our young people what they need to be doing, what they should look like or how they should act, we need to sit down with them and ask them what they want, what are their issues that they're dealing with, what are some solutions that they're thinking about."
Toni Whitfield., the president of H.O.P.E., was driven to demonstrate by a concern about police brutality.