Civil Rights Case Against Zimmerman To Be Difficult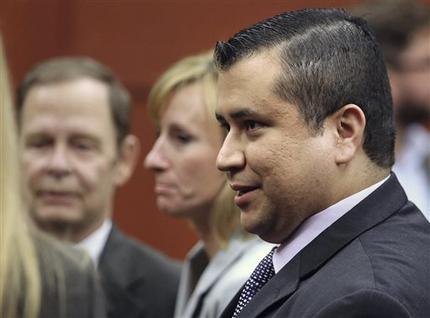 WASHINGTON — Calls for the Justice Department to look in to the shooting death of Trayvon Martin reverberated as soon as George Zimmerman (pictured) was acquitted of state charges in a Florida courtroom, but it may be even tougher to mount a federal case against Zimmerman.
The department says it's reviewing evidence to determine whether criminal civil rights charges are warranted, but legal experts see major barriers to a federal prosecution – including the burden of proving that Zimmerman, the former neighborhood watch leader, was motivated by racial animosity – and say Justice officials would likely be saddled with some of the same challenges that complicated the unsuccessful state case.
"The Justice Department would face significant challenges in bringing a federal civil rights case against Mr. Zimmerman," said Alan Vinegrad, the former U.S. Attorney in the Eastern District of New York. "There are several factual and legal hurdles that federal prosecutors would have to overcome: They'd have to show not only that the attack was unjustified, but that Mr. Zimmerman attacked Mr. Martin because of his race and because he was using a public facility, the street."
The department opened an investigation into Martin's death last year but stepped aside to allow the state prosecution to proceed. It said in a statement Sunday that the criminal section of its civil rights division, the FBI and federal prosecutors in Florida are continuing to evaluate the evidence generated during the federal investigation, plus evidence and testimony from the state trial. The statement came as the NAACP and others called on the Justice Department to open a civil rights case against Zimmerman for the shooting death of the unarmed black 17-year-old.
Zimmerman was acquitted Saturday night in a February 2012 shooting that tapped in to a national debate about racial profiling, equal justice, and self-defense. Civil rights leaders, Martin's parents, and many others said Zimmerman had racially profiled Martin when he followed the teenager through a gated townhouse community and shot him, but Zimmerman said he was physically assaulted by Martin and shot the teenager in self-defense.
Though the Justice Department does have an established history of using federal civil rights laws to try to convict defendants who have been previously acquitted in related state cases, experience shows it's almost never easy getting guilty verdicts in such high-profile prosecutions. In this case, federal prosecutors pursuing a civil rights case would need to establish, among other things, that Zimmerman was motivated by racial animosity, even though race was barely mentioned at the state trial.
Lauren Resnick, a former federal prosecutor in New York who secured a conviction in the killing of an Orthodox Jew during the 1991 Crown Heights riots in Brooklyn, said the Justice Department could conceivably proceed under a theory that Zimmerman interfered with Martin's right to walk down a public street based on his race. But even that is difficult since the conflict occurred in a gated community, which may not fit the legal definition of a public facility. Prosecutors would also probably need to prove that trailing Martin on the street constituted interference, she said.